Foscam, a Chinese manufacturer of IP Cameras, is a good example of what's bad with the Internet of Things.   They also demonstrate that low-cost *is* low-security.  If you have a Foscam product, you might as well put a sign up saying, "Hack Me.  I don't care."
F-Secure released a report earlier this week detailing critical flaws in the Opticam i5 HD and the Foscam C2 series of products.  Despite being notified several months ago of the problems (18 vulnerabilities total), Foscam has not fixed the problems.
Non-random default credentials for web user interface account
FTP server account uses empty password
FTP server account has a hard-coded password
Configuration back-up file is protected by hard-coded credentials
Hidden hard-coded credentials for web user interface
Hidden Telnet functionality
Remote command injection in User Add
Remote command injection in /mnt/mtd/boot.sh via ProductConfig.xml
Unauthenticated Remote Command Injection via Anonymous ONVIF SetDNS
 Incorrect permission assignment for startup script: /mnt/mtd/boot.sh
 Incorrect permission assignment for directory: /mnt/mtd/app
 Administrator Credential Disclosure via Anonymous ONVIF GetStreamUri
 Unauthenticated Reboot via Anonymous ONVIF SystemReboot
 Firewall only protects ports 88 and 443
 Missing restriction of multiple login attempts
 Denial of service of the RTSP video feed
 Unauthenticated Persistent XSS via Anonymous ONVIF SetHostname
 Buffer overflow in ONVIF SetDNS
Foscam cameras are re-branded by other companies under the names:

Foscam camera deployment density: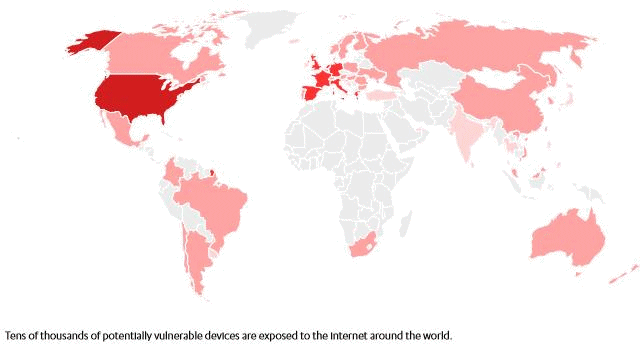 As F-Secure surmises, it is likely that many of these bugs exist in most of Foscam's product lines.
F-Secure's detailed write-up can be found here.  A locally cached copy is here.
Caveat emptor