On Monday, 6/2/2017, Google released a new version of their Chrome browser, version 59.  It addresses  It fixes 30 bugs in all, 5 of them of High priority.  Google shelled out  $23,500 to external researchers as part of their Bug Bounty program.
Here are the particulars: https://chromereleases.googleblog.com/2017/06/stable-channel-update-for-desktop.html
Upgrading is pretty easy.  Click on the three vertical dots (Setup) on the top-right of Chromes URL bar.   Scroll down to "Help", then "About Google Chrome".  My version updated automatically: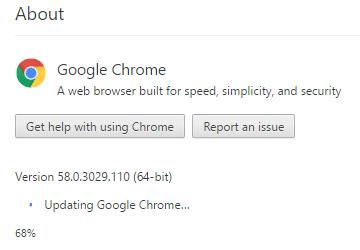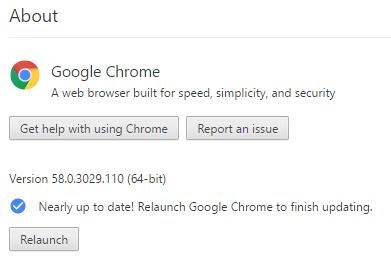 NOTE: There has been some inaccurate reports of the issue with spreading Username and Password Hashes via .SCF (ShortCut File) links.  This is fixed across all Chrome variants via an update to their File Type Policies.  See this link for details.  Naturally, this is contained within the new Version 59 release.  Your version of Chrome has probably already updated the File Type Policies, but to check if your Chrome has this fix, type this URL into the browser: chrome://components/
"File Type Policies" should be at v11.  If a user clicks on a hyperlink containing a .SCF extension, a Warning Message is displayed.