Checkpoint Software Technologies reported an outbreak of browser-based Malware called "FireBall".   This malware delivers unwanted ads and popups and completely takes over your web browsers.  It was created by the Chinese advertising company, "Rafotech".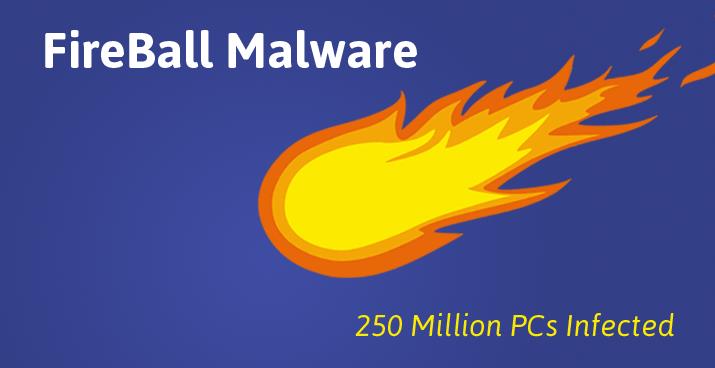 FireBall gets installed as a bundle from other legitimate programs downloaded from the Internet.  However, it has a great deal of sophistication, including a Command and Control (C&C) architecture, malware downloaders, droppers, and sniffers, can perform remote code execution, and evades detection.  It is believed to have infected computers within 20% of all corporate networks.
25.3 million infections in India (10.1%)
24.1 million in Brazil (9.6%)
16.1 million in Mexico (6.4%)
13.1 million in Indonesia (5.2%)
5.5 million In US (2.2%)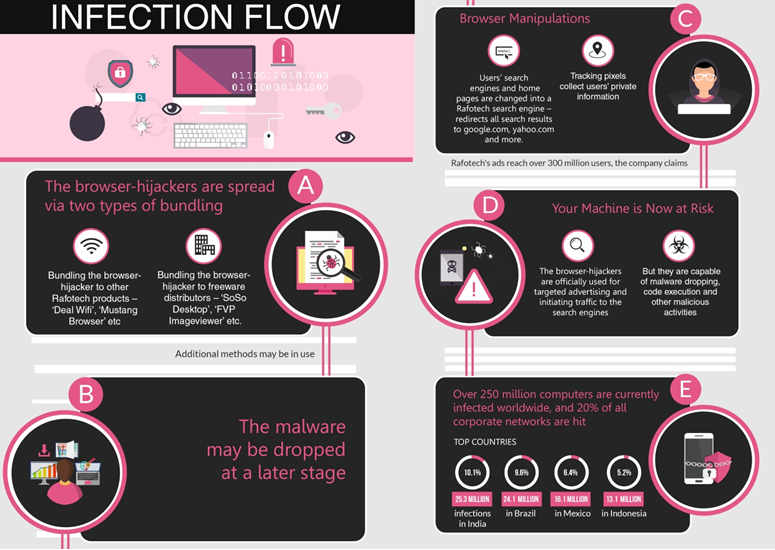 Signs of infection include changing the browser's Home Page and Search Engines.  Usually, the browser is changed to "Trotux", but it can be any of the following:
attirerpage[.]com
s2s[.]rafotech[.]com
trotux[.]com
startpageing123[.]com
funcionapage[.]com
universalsearches[.]com
thewebanswers[.]com
nicesearches[.]com
youndoo[.]com
giqepofa[.]com
mustang-browser[.]com
forestbrowser[.]com
luckysearch123[.]com
ooxxsearch[.]com
search2000s[.]com
walasearch[.]com
hohosearch[.]com
yessearches[.]com
d3l4qa0kmel7is[.]cloudfront[.]net
d5ou3dytze6uf[.]cloudfront[.]net
d1vh0xkmncek4z[.]cloudfront[.]net
d26r15y2ken1t9[.]cloudfront[.]net
d11eq81k50lwgi[.]cloudfront[.]net
ddyv8sl7ewq1w[.]cloudfront[.]net
d3i1asoswufp5k[.]cloudfront[.]net
dc44qjwal3p07[.]cloudfront[.]net
dv2m1uumnsgtu[.]cloudfront[.]net
d1mxvenloqrqmu[.]cloudfront[.]net
dfrs12kz9qye2[.]cloudfront[.]net
dgkytklfjrqkb[.]cloudfront[.]net
dgkytklfjrqkb[.]cloudfront[.]net/main/trmz[.]exe
To fix the problem, you must first uninstall the software from the Computer.  In Windows, this is in Control Panel -> Programs.  Then you must remove any browser plugins and reset the web browsers to their default values.
Malware removal programs like Super Anti-Spyware, MalwareBytes, or Adwcleaner can be used to cleanup the infection if their malware databases have been updated.
The original article from Checkpoint Software Technologies is here.